A caravan made of bricks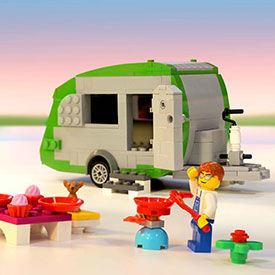 A caravan made of bricks

The Motorhome and Caravan Show 2015 is aiming to set a Guinness World Record by completing the largest ever Lego caravan on the show�s opening day.
The life-sized caravan will be modelled on a T@B 320 RS and will be made of more than 150,000 Lego bricks. It will have a full interior, with working lights, a sink, kitchen facilities, a bed and seating.
Once completed, the Lego caravan will be on display at the Motorhome and Caravan Show alongside all the new 2016 caravan and motorhome models from leading UK and European manufacturers.
The world record attempt is part of the Motorhome and Caravan Showâ??s celebration of 130 years of leisure caravanning.
The show, which opens on Tuesday 13 October by former motorcycle champion Carl Fogarty, the winner of 2014â??s Iâ??m a Celebrity… Get Me Out of Here, takes place at the Birmingham NEC until 18 October.
Pictures and video from the caravan build will be posted on the Motorhome and Caravan Show website and on social media, with the Twitter hashtag #legocaravan.
As well as the record-breaking caravan, visitors to the show will also be able to enjoy exclusive show deals, new product demonstrations, the Expertsâ?? Theatre, towing lessons, and fun for the family.
Tickets are on sale now.
SHEILA KIGGINS | 16 July 2015