Club members trial Thetford's new cleaning machine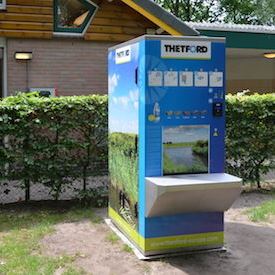 Club members trial Thetford�s new cleaning machine

The Club has teamed up with equipment manufacturer Thetford to trial an innovative sanitary solution.
In a move that could revolutionise the camping world, the Camping & Caravanning Club has partnered with Thetford, manufacturer of kitchen and toilet solutions, to bring a new user-friendly toilet cleaning facility to Kingsbury Water Park Club Site for a free trial period, 12-18 October, for the duration of the Motorhome & Caravan Show at nearby Birmingham NEC.
The facility, known simply as the Thetford machine, is a hygienic and quick way of disposing of toilet waste.
Campers at Kingsbury Water Park will be invited to use the machine free of charge during the trial period. In normal practice, users would be required to swipe a Thetford pre-pay card or contactless payment card across the machineâ??s scanner before inserting the toilet cassette into the machine.Â
Within three minutes the machine empties, rinses and doses the cassette with toilet chemicals, ready to be used again. Even the cassette tankâ??s cap is cleaned.
There will also be a display model of the machine on Thetfordâ??s stand at the Motorhome & Caravan Show from 13-18 October (Hall 20, stand 52).
The usage fee will be decided upon following the successful completion of the UK trials. In Holland, where the machine is being trialled on 10 campsites, single use currently costs 3.50 Euros.
Paul Martin, Thetford Commercial Executive, said: â??Weâ??re delighted to partner with The Camping and Caravanning Club for this exclusive UK first trial of our machine.
"The response has been hugely positive from ongoing trials in Holland, and weâ??re confident it will be received just as well here in the UK.â?
Bob Hill, Club Sites Director, said: â??As a not-for-profit organisation, any surplus the Club makes is reinvested into developing our 108-strong Club Site network, making the camping experience even better for our members.
"With this in mind, weâ??re keen supporters of new developments in campsite technology, so weâ??re excited to see what kind of response the machine generates from our members.â?
If youâ??re camping at Kingsbury Water Park from 12-18 October, we want to hear your views about the Thetford machine. Would you use it? How much would you pay? Would you like to see it rolled out at more Club Sites?  Drop us a line at forum@thefriendlyclub.co.uk or chat with our Club Reporter, who will be on-site on Wednesday 15 October.
Â
VICKY SARTAIN | 06 October 2015