Make your own Christmas jumper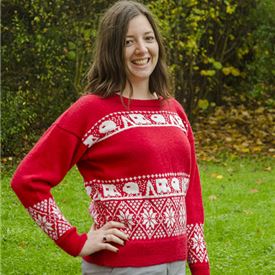 Make your own Christmas jumper

In December's issue we designed our very own camping knitting pattern. Now you can use it to make your own woolly wonders.
Thanks to Jane Harrisson of Needles of Steel in Rugby, Warwickshire, our festive December front cover has become a fashion statement waiting to happen.
Using her design and machine knitting skills, Jane helped us turn our artwork into a traditional-looking woolly Christmas jumper.
And in the interests of Christmas being a time for sharing, we wanted to make our knitting pattern available to all, so you can come up with your own camping creations in the build up to the big day.
If you donâ??t have time to make a whole jumper, we think the charts would also work brilliantly on hats, gloves or Christmas stockings.
To check out our design for hand knitters, click here.
Or to see our design for machine knitters, click here.
And since we understand not everyone will want to break out the knitting needles or the sewing machine, you can still get your hands on one of 50 Christmas T-shirts that we're giving away, printed with the same design.
To be in with a chance of claiming one, click here.
Don't forget, weâ??d love to see photos of you wearing your Camping & Caravanning Christmas creations or T-shirts â?? email or tweet us with your photos.
STUART KIDMAN | 12 November 2015