Places remain for travel events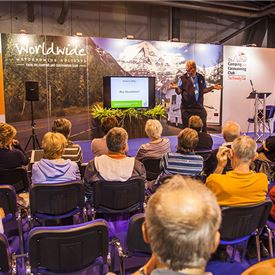 Places remain for travel events

Places are still available for two Worldwide Motorhoming Holidays Presentation Days in July, run by the Club.
The two presentation days will feature travel advice and inspiration for potential world tourers.
Tour Escorts and Travel Specialists will speak from first-hand experience about what each destination has to offer, and thereâ??ll be plenty of time for questions and discussion.
The presentation days will take place from 10am to 3.30pm at Wetherby Racecourse in Yorkshire on Tuesday 7 July, and at The National Motorcycle Museum in Solihull, West Midlands on Wednesday 8 July.
Places are bookable for £5 per person including a buffet lunch and a £100 discount voucher to redeem against a booking with Worldwide Motorhoming Holidays.
Book here or call 024 7647 5340.
STUART KIDMAN | 12 June 2015