Ready, steady camp with the Club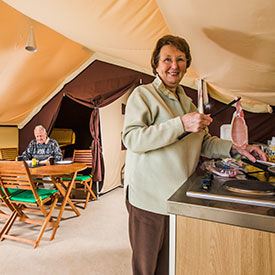 Ready, steady camp with the Club

Summer�s here and those thinking about dusting off their tent may prefer to try the Club�s all-new Ready Camp offering instead, a luxurious experience where a fridge, microwave and hob are all part of the service.
Much has been written about â??glampingâ??, a glamorous slant on the traditional experience of sleeping under canvas. Now, the Club is offering its own style of luxury lodgings under its Ready Camp brand.
Launched by the Club in February at the Caravan, Camping and Motorhome Show at Birmingham NEC, Ready Camp features safari-style accommodation with plenty of added comfort under a honey-coloured canvas. These sophisticated glamping tents now feature at 17 of the Clubâ??s Sites across Scotland, England and Wales and are welcoming their first intake of guests in their seasonal debut.
Robert Louden MBE, Director General, said: â??Ready Camp takes away the pressure of purchasing and transporting camping equipment and our holidays are the perfect way for families to try the popular pastime in a home-from-home environment.â?
Unlike traditional tents, Ready Camp units have easy access and â?? a real novelty for some â?? occupants can stand inside them. Not something to be sniffed at when dashing for the loos at 2am while attempting to untangle from a sleeping bag.
Following a trial stay in a Ready Camp tent at Drayton Manor Club Site, Club Chairman Anne Dearling commented: â??Itâ??s sheer luxury â?? it has everything, even a sofa! Itâ??s so convenient. All you need to bring is your own bedding, towels and food.â?
Units sleep up to four adults and two children and the beds provide a home-from-home experience. â??The mattresses are very comfortable, I had a great nightâ??s sleep,â? Anne confirmed. â??The experience falls somewhere between a motorhome and a tent â?? you have all the facilities and comfort with the adventurous feel of camping under canvas.â?
Ready Camp is perfect for the novice camper too, as thereâ??s no tent pitching to worry about, and saves time on arrival and departure. Said Anne: â??My husband and I had set everything up in the Ready Camp unit in around quarter of an hour, whereas normally weâ??d spend far longer considering where to pitch and putting the tent up. Another plus is that you donâ??t have to worry about the weather when packing up at the end of the holiday â?? it doesnâ??t matter if it rains if thereâ??s no tent to take home!â?
Ready Camp units are raised off the ground on decking which runs through to the veranda for those evenings under the awning, whiling away the hours with friends and family, or sitting out with a morning cuppa. Convenient, comfortable and popular (bookings are already flooding in for the 2015 summer season), Ready Camp is also ideal for large families â?? cosy sleeping quarters mean greater comfort for all generations, so now thereâ??s really no excuse not to camp.
Visit Ready Camp's website for more details and how to book your pitch. For more details about Club Glamping visit the website.
VICKY SARTAIN | 05 June 2015