Volkswagen Passat Estate wins Tow Car Awards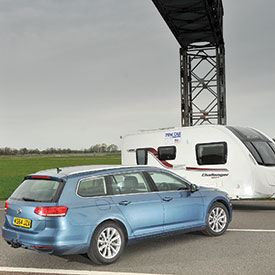 Volkswagen Passat Estate wins Tow Car Awards

The Volkswagen Passat Estate has been declared Britain�s best tow car, coming top of a 37-car field in a series of demanding tests.
For the ninth successive year, the Club has teamed up with Practical Caravan and What Car? to find the UKâ??s best tow car.
During the tests at the MIRA proving ground, 37 cars were assessed for towing behavior, stability, practicality, and everyday driving.
Tests include a ride and handling circuit, a slalom course, and a hill-start. Each caravan is weighted to 85 per cent of the test carâ??s kerbweight, or the legal towing limit, whichever is lower.
The judges looked for cars that towed well but would also be a practical everyday motor, recognising that few people can afford a vehicle dedicated solely to towing.
The front-wheel drive Volkswagen Passat Estate 2.0 TDI BMT 150PS SE Business DSG was chosen as the overall winner. The judges praised its outstanding towing ability, the ease of use of the towing electrics, and its good value for money.
Visit the Tow Car Awards website for the full 2015 test results and a searchable archive of every competition since 2007.
The Tow Car Awards are supported by Swift Group, AL-KO, Witter, Milenco, and Admiral Fire Extinguishers.
SHEILA KIGGINS | 12 June 2015