Battle of Jutland centenary to be commemorated – BBC News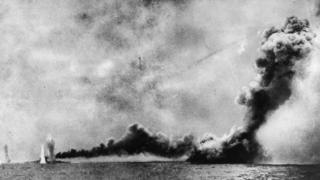 The centenary of the largest naval battle of World War One is to be officially commemorated in Rosyth and South Queensferry on Saturday.
More than 6,000 Britons and 2,500 Germans died in the Battle of Jutland, which involved around 250 ships.
Events will begin with a service at Rosyth Parish Church before they move on to a war graves cemetery.
Later, the band of the Royal Marines will perform while HMS Kent weighs anchor at South Queensferry.
Jutland was the only major naval battle of the 1914-18 war.
It brought together the two most powerful naval forces of the time and it became the largest sea battle in naval warfare history in terms of the numbers of battleships engaged.
The events on Saturday are designed to mark the "contribution and sacrifices" made by those who served during the battle.
The Princess Royal and First Minister Nicola Sturgeon are among guests expected to attend the commemorations.
It will begin with a wreath-laying service and then an act of remembrance at Rosyth Parish Church – in the town where the battlecruiser force was based in 1916.
A minute's silence will take place following the ringing of a bell made from the hull of HMS Tiger, a battlecruiser which suffered light damage during the Jutland campaign.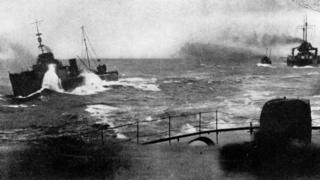 A service of remembrance will be held in South Queensferry Commonwealth War Graves Commission's cemetery, where 40 casualties from the battle are commemorated or buried.
Descendents of those involved in the battle, local school pupils and children visiting from Wilhelmshaven in Germany will be part of the event.
Singer Barbara Dickson, whose uncle was killed in the Battle of the Somme, will sing Scottish lament Flowers of the Forest as Princess Anne lays a wreath to remember lives lost.
In the final event of the day, members of the public will be invited to line the streets around Hawes Pier in South Queensferry.
The band of HM Royal Marines (Scotland) will perform the Beating Retreat and Ceremonial Sunset, while HMS Kent weight anchor and sails – a reference to the departure of the battlecruiser force 100 years ago.
A commemorative plaque, to be unveiled by Princess Anne, will later take permanent place at South Queensferry's shore.

WW1's biggest naval battle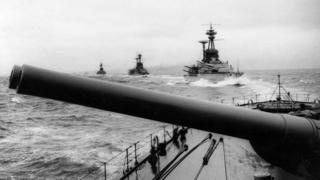 The Battle of Jutland took place on 31 May 1916
The British and German navies fought in the North Sea, off the coast of Denmark's Jutland peninsula
Britain suffered the highest casualties, with more than 6,000 lives lost
More than 2,500 Germans were killed
Germany claimed victory but her ships did not dare to challenge the British Grand Fleet again
Britain retained the larger navy and ensured it could send troops and supplies to Europe until the end of the war

source: http://www.bbc.com/news/uk