Somali Americans divided as FBI informant testifies against friends
Abdirahman Bashir once pledged allegiance to Isis, but now faces his alleged co-conspirators in a Minneapolis court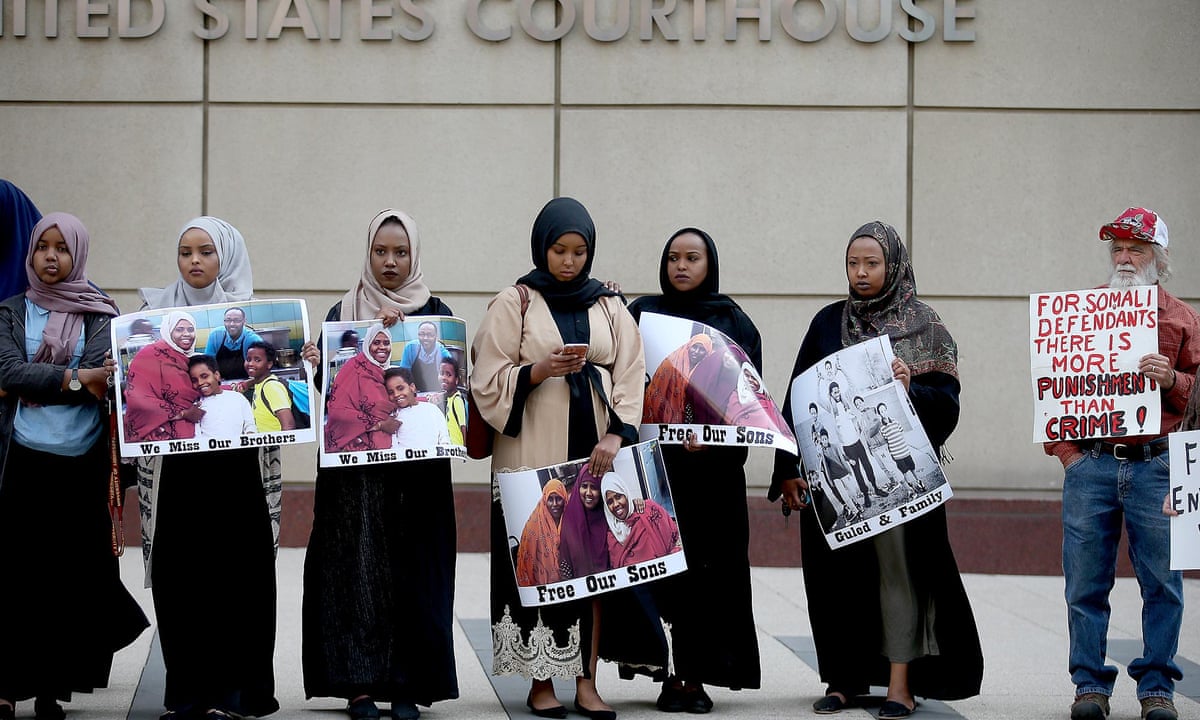 Abdirahman Bashir sat alone on the stand and began to cry. His head slumped in his hands, his eyes darting between the floor and the ceiling, he avoided the gaze of the three defendants in court. Young men he had allegedly planned to die with. Men whom he ultimately betrayed.
Bashir, a 20-year-old Somali American, had once pledged allegiance to the Islamic State militant group after consuming hours of violent propaganda videos. He listened to lectures delivered by radical cleric Anwar al-Awlaki and saw his four cousins depart for the frontlines in Syria. He had planned to follow.
But in December 2014, as the net began to close around him and his alleged co-conspirators, after a reported first attempt to leave the United States failed and news arrived of his cousins death following an airstrike, Bashir was looking for a way out.
He agreed to become an informant for the FBI.
Bashir spent the following months recording his friends with a hidden microphone as theyplotted to leave Minneapolis for Syria. He taped them at their homes, inside mosques, at shopping malls and during car rides, as they articulated their radicalized views and plans to exit the US.
The recordings form the backbone of the prosecutions case against 10 indicted Somali Americans from Minneapolis, who formed an alleged Isis cell in the city. These men, all in their early 20s, are facing charges of conspiracy to commit murder outside of the US and providing material support for a terrorist organization. Bashirs evidence, delivered over five days in court, provides a detailed window into the ways these young men were radicalized and how the terrorist group is attempting to recruit fighters from the west.
His appearance in courthas also sharply divided the large, overwhelmingly impoverished Somali diaspora in Minneapolis, which is still reeling from a swathe of young men who left the city between 2007 and 2011 to join the terrorist group al-Shabaab and fight in Somalia. Some accuse Bashir and the FBI of entrapment, saying the tactics have further intensified the mistrust between some members of the community and law enforcement.
Although the number of Americans seeking to join the Islamic State is small compared to Europe, where recent estimates suggest around 4,000 EU citizens have travelled to fight abroad, the trial in Minnesota is an indication that the US government, which has indicted 85 individuals with an average age of just 27 for connections to Isis, is willing to experiment with sentencing options for at least some of those involved in this Minneapolis group.
Six of the accused already have pleaded guilty, and, borrowing on practices used in European countries such as Denmark and Germany, the court will explore these young mens capacity to be deradicalized. These evaluations could lead to shorter prison sentences, with a focus on probation, potentially offering some of these young men a second chance.
As he cried on the stand, Bashir told the court how he suffered from anxiety attacks immediately after members of the alleged cell were arrested in April last year and his involvement was revealed.
I felt lonely, he said, as the all-white jury listened. A lot of the community members would say: This guy is after us. Even some of my family members would tell their kids to stay away from me.
Sitting in the dock, defendant Guled Omar, 21, shook his head as Bashir wiped his eyes. Abdirahman Daud and Mohamed Farah, both co-defendants aged 22, stared into computer monitors without emotion.
May Allahs curse be upon you
Bashir recorded his friends for around four months at the beginning of 2015as they liaised with the 10th defendant in the case, 22-year-old Abdi Nur, who successfully fled the US to join Isis in 2014. The young men were recorded discussing various propaganda videos depicting torture and murder that they shared with each other, and, ultimately, their plot to buy fake passports to escape via the southern US border into Mexico.
But that plan was a sting. Bashir told members of the group he had found a man in San Diego, California, who could source them a set of fake passports. The man, whom the group nicknamed Miguel, was an undercover FBI agent.
Bashir told the court how he, Daud and Farah, drove for three days from Minneapolis to San Diego in April 2015. On the way they listened to lectures delivered by Anwar al-Awlaki, the US born radical preacher killed in Yemen by a US drone strike in 2011. But mostly, they sat in a tense silence.
In one instance of rare conversation played to the court, Daud told the group he could no longer sleep until he saw the Isis flag.
I cant believe Im driving out of the land of the kuffar, he said. Im going to spit on America at the border crossing. May Allahs curse be upon you.
When the group arrived at the exchange point, a small warehouse in the city suburbs, armed FBI agents threw two flashbang grenades, pointed their weapons at the defendants and escorted Bashir, who had faked an injury, away from the group. They had not seen him since that day.
Bashir told the court this week that he had been paid more than $100,000 by the FBI in the summer of 2015 as he assisted the investigation by translating and transcribing his recordings. He had previously been unemployed. Although paying informants is common practice in the FBI, a group of young boys, who later identified themselves as friends of Guled Omar, gasped inside the courtroom as they heard the figure.
Shit man, nobody gets paid that much, one whispered.
Later, one man in the group, 23-year-old Hasan Ali, a student who has attended almost every hearing to show support for Omar, said the FBIs use of an informant had spread distrust among his friends, whom he described as moderate Muslims. Going back into the community, were not going to trust each other any more, he said. White people always look at us as terrorists, now the FBI is making things even worse.
Mohamed Farahsfather, Abdihamid Farah Yusuf, was also enraged by Bashirs testimony. He [Bashir] used to come to my house, eat with my boys, he told the Guardian. It was entrapment by the government. A set-up.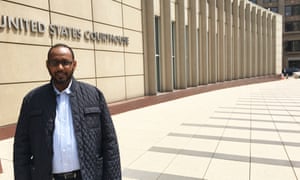 source: http://www.theguardian.com/us