Thomas Becket bone fragment to be carried to Canterbury – BBC News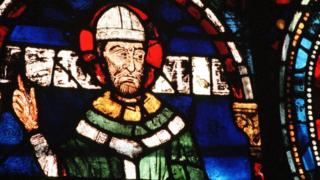 A bone fragment believed to come from the remains of St Thomas Becket will be carried into Canterbury Cathedral later, 845 years after his death.
The relic is considered to be from the elbow of St Thomas, killed by four knights in 1170 after he fell out with King Henry II.
Hungarian dignitaries plan to walk with it for a mile and a half from a church on the outskirts of the city.
The event ends a week-long pilgrimage from Hungary to London and Kent.
The public are invited to join the walk, which leaves St Michael's church at Harbledown, Kent at 15:00 BST.
There will be a short service at the cathedral, before the relic goes on display in the crypt on Sunday.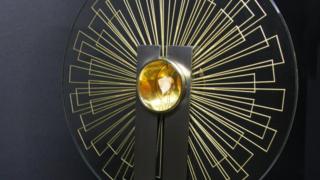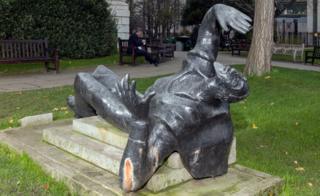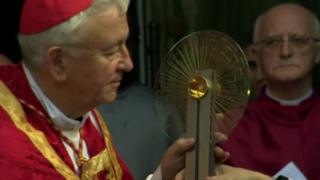 The relic went on display at Westminster Abbey and St Magnus the Martyr Church in Lower Thames Street while in London.
It was taken to Rochester Cathedral on Friday and will be returned to Hungary after the events in Canterbury.
---
Who was Thomas Becket?
King Henry II made his close friend Thomas Becket Archbishop of Canterbury in 1161.
The friendship came under strain when Becket stood up for the church in disagreements with the king.
In 1164, Becket fled to France, returning in 1170.
On the 29 December 1170, four knights, believing the king wanted Becket out of the way, murdered him in Canterbury Cathedral.
Becket was made a saint in 1173 and his shrine in Canterbury Cathedral became a focus for pilgrimage.
---
Historians say the bone became important to Hungarians as a symbol of Catholic resistance to communism.
It is not known how it arrived in Hungary but two prelates from Hungary were said to have been present in Canterbury Cathedral when Thomas Becket's body was reburied in 1220 and his tomb opened.
The shrine at Canterbury containing most of Becket's remains was destroyed during the reign of Henry VIII when the practice of venerating saints was condemned.
source: http://www.bbc.com/news/uk